BRAGGING RIGHTS FOR (BRIEF) SHOT OF WARMTH
Monday brought some of the warmest temperatures in months back to southern Ontario, as Windsor topped 22ºC and highs edged into the teens as far east as the GTA and Niagara. That's as buses were pulled from the roads amid icy conditions across eastern Ontario Monday morning and up to 20 cm of snow piled up in areas of the north. While the mild weather continues into Tuesday for the southwest, those high teens will be a thing of the past -- at least for now -- as a stormy, snowy system sweeps in.
WATCH BELOW: MESSY TUESDAY STORM, TIMING
'LOOKING MORE LIKE THE MIDDLE OF JANUARY' ON TUESDAY
The next disturbance comes in the form of an Alberta clipper, which brings both the threat for thunderstorms and another swath of snow through parts of the province on Tuesday.
"Some dynamics are in place for areas along the Bruce Peninsula and over towards cottage country to squeeze out a thunderstorm or two through the morning hours and early afternoon on Tuesday," says Weather Network meteorologist Kelly Sonnenburg, adding that these storms would be non-severe in nature.
Rain showers tracked across southwestern and south-central Ontario through Tuesday morning, with clear breaks moving in for the afternoon.
"We will have a gusty northwest wind however, and temperatures will be noticeably cooler than on Monday," says Weather Network meteorologist Dr. Doug Gillham.
A much wintrier scene will play out across eastern Ontario Tuesday with special weather statements and freezing rain warnings issued for the region. Slippery road conditions were reported amid a swath of icy precipitation in the Ottawa area early Tuesday with even heavier snow moving in through the afternoon hours.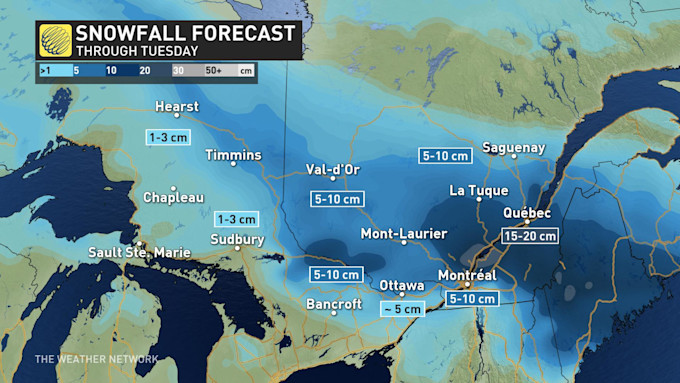 "Ottawa, you may be looking more like the middle of January than the start of April by Tuesday afternoon," Sonnenburg warns, with about 5-10 cm of snow on the way to help extend your record-setting season.
The rest of southern Ontario isn't entirely in the clear, however, as cooler air drops in behind the clipper and rain showers turn to wet snow east of Lake Huron and Georgian Bay by Tuesday evening.
RELATED: Ottawa, with this epic record you ARE winter
NOT DONE YET, WIDESPREAD WINTRY CONDITIONS BY THURSDAY
While most of southern Ontario escapes the wintry wrath of Tuesday's system, the clipper will bring temperatures down through mid-week, and that leaves conditions primed for a more-widespread shot of snow as the next system approaches.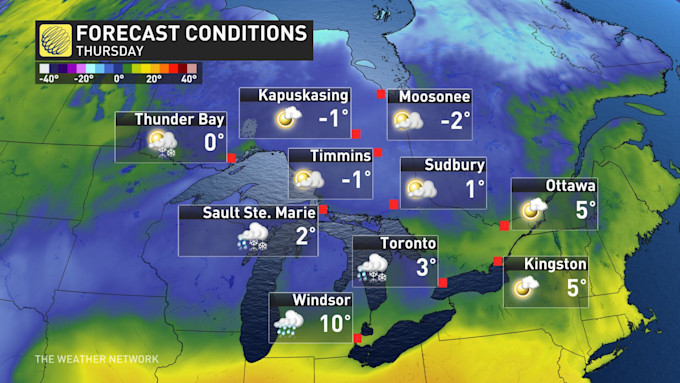 While this next system -- a Colorado low -- will ultimately bring warmer temperatures back into southern Ontario, as the system first edges in and moisture collides with the colder air expected to be in place through early Thursday morning.
It won't be long-lived, but it's not out of the question that a swath of wet snow will fall from London to Niagara and north to Georgian Bay early Thursday morning, with some mixed precipitation or ice pellets also on the menu before temperatures climb again for a rainy Friday.
WATCH BELOW: ANOTHER COLORADO LOW FOR ONTARIO
ICYMI: You shouldn't kill this household pest, even though it might bite you
Northern Ontario will once again bear the brunt of this system with moderate snow and strong winds expected for areas north of Lake Superior to James Bay, including Thunder Bay and Timmins.
"There will be major impacts to travel along the Trans-Canada," warns Gillham. "A period of freezing rain is likely east of Lake Superior and across the Nickel Belt as well."
Stay with us here at the Weather Network this week as we track this potential winter weather-maker.
COOLER PATTERN DOMINATES WELL INTO APRIL
Despite some glimmers of hope that see temperatures rising well above the freezing mark, the back and forth swings in daytime highs are expected for the foreseeable future, with "no sustained warmth in sight."
"During the next two weeks a persistent blocking pattern will continue to send shots of colder weather into the Great Lakes region. This makes consistent warmth unlikely through at least April 24th, though we can still get mild days at times," says Gillham.
WATCH BELOW: WHY THIS WEATHER PATTERN LOOKS ODDLY FAMILIAR