By: Jenelle Cameron
THE WEATHER NETWORK'S SUMMER 2019 FORECAST
Tags: JENELLE CAMERON REAL ESTATE, JENELLE CAMERON TEAM, TORONTO REALTOR, TORONTO HOMES, TORONTO CONDOS, REAL ESTATE BLOG, TORONTO BLOG, NEWS, DREAM HOME, JUST LISTED, JUST SOLD, REAL ESTATE BLOGGING, ETOBICOKE CONDOS, TOP ETOBICOKE REALTOR, TOP TORONTO REALTOR, HOMES IN EAST YORK, ONTARIO, BEST AGENT IN TORONTO, BEST AGENT IN ETOBICOKE, BEST NEIGHBOURHOODS TO LIVE IN TORONTO, toronto summer forecast, ontario summer forecast
By Weather Network
After a spring that has lacked consistent warmth across most of Canada, the most anticipated season of the year is finally upon us and many Canadians are wondering if the cool pattern will continue through the summer.
To answer this question, The Weather Network has released its summer forecast for the months of June, July, and August with an overview of what Canadians can expect for the upcoming season. Our forecast highlights another hot and dry summer across B.C. with a heightened threat for wildfires. The wildfire season is off to an early start and there are troubling signs pointing to another active and high impact fire season.
On the other hand, a changeable summer is likely from the Prairies, through Ontario, Quebec and Atlantic Canada, with less extreme heat compared to last summer.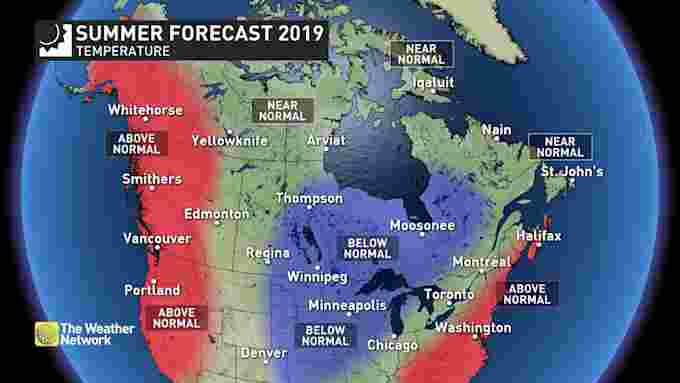 The greatest uncertainty in our summer forecast is across southern Ontario and southern Quebec as this region is expected to be sandwiched between two opposing summer patterns. A hot summer is expected just to the south of this region, but a cooler summer is expected just to the north and west. One of these patterns could end up stronger or shifted slightly in location and become the dominant pattern across southern Ontario and southern Quebec.
This changeable pattern also heightens the potential for periods of stormy weather with above normal rainfall expected across southern Ontario and southern Quebec.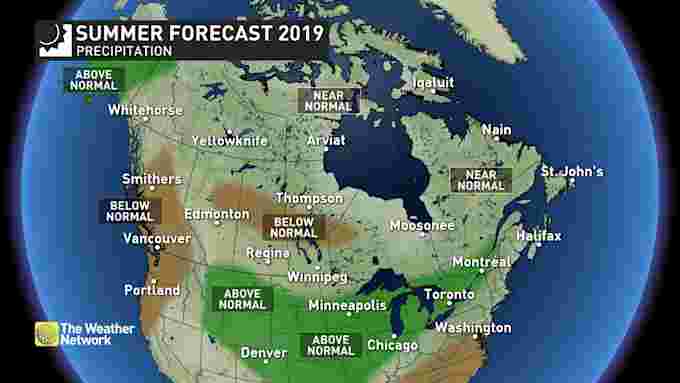 However, keep in mind that summer precipitation is notorious for being highly variable over short distances and it is inevitable that localized areas will miss out on the showers and thunderstorms that occur in surrounding areas. In addition, localized storms can bring torrential rain to areas where drought dominates a season.

ONTARIO AND QUEBEC
A humid and changeable summer is expected across most of this region with less extreme heat compared to last year. This region will continue to struggle to see consistent warmth during June and the potential for typical mid-summer heat looks to be higher during mid and late summer. For the summer as a whole, we expect near normal temperatures across southern areas and cooler than normal temperatures to the north. However, it looks like we will continue with our recent trend of warm Septembers with above normal temperatures expected throughout the region.
Ironically, our confidence in the pattern for September is higher than it is for July and August across southern Ontario and southern Quebec. This region will be in close proximity to a hot summer just to the south and a cool summer just to the north. Both patterns have the potential to dominate at times and one of these patterns has the potential take over and become the dominant pattern for much of the season.
But, with being in the battle zone between the two patterns, an active and stormy pattern is expected to continue well into the summer with a heightened risk for thunderstorms and severe weather, especially flash flooding.